Extinction Intervention
The dinosaurs are about to become extinct as the fated meteor torments them from above. At the same time, multiple other extinction-worthy events are happening. Can you keep the dinosaur era alive? It seems impossible, but if you click fast enough…
Save your dinos from extinction events!
Survive until present day.
How many dinos will you keep alive?
Created in 72 hours for Ludum Dare 46 Jam. The theme was "Keep it alive".
Works in mobile browser!
Controls
Click to push back and destroy disasters
R - restart
Credits
Vu Ha - Code and Audio
Rose Peng - Art
Johan Soriao - Music
Links
Notes
Comments
Log in with itch.io to leave a comment.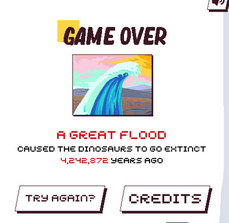 Now I know the cause of their extinction !
Very fun game concept. Great job.